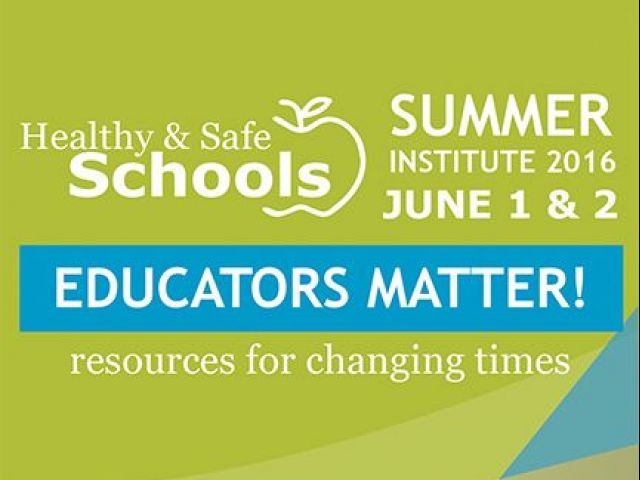 Materials from Summer Institute: Educators Matter! Resources for Changing Times
Keeping students and yourself healthy as school environments rapidly change is a challenge! The Healthy & Safe Schools Summer Institute 2016 offers a 2-day professional development immersion into the challenges of student substance abuse, behavioral health needs, concussions, eating disorders, social media and othe trending education topics.
Summer Institiute Materials
Educators Matter! Summer Institute Program
June 1, 2016
Keynote: "Why Poverty Matters to our Children, Families and Schools" - PDF
Session 1
Understanding Poverty: An Interactive Workshop - PDF
Bonnie Bazata, M.A., Program Manager, Ending Poverty Now, Pima County
bonnie.bazata@pima.gov
Invisible Wounds: Understanding and Working with the Traumatized Student - PDF
Beverly Tobiason, Psy.D., Clinical Director, Pima County Juvenile Court Center
Beverly.tobiason@pcjcc.pima.gov
Nurturing the Talents & Meeting the Needs of Refugee Students - PDF
Julie Kasper, NBCT, M.A.Ed., School Coordinator & Center Director, K12 Refugee Education
jkasper@refugeefocus.org
Positive Interactions with Parents
John Carruth, Assistant Superintendent, Vail Unified School District
Session 2
What Our Students Are Doing: Awareness and Prevention of Teen Substance Abuse
Raul A. Munoz, BS, Program Coordinator, Pima County Health Dept.
raulmunoz@pima.gov
Do We Still Need to Talk about Multiculturalism and Achievement?
Dr. Roxana Samaniego PhD, Clinical Psychologist, Community Partnership Care Coordination
Roxana.Samaniego@communitypartnersinc.org
The Role of School Personnel in Concussion Management - PDF
Patricia Beldotti, Psy.D., Director of Neuropsychology
pbeldotti@tucsonconcussioncenter.com
Carisa Rucci, Ph.D., AT Navigator, Tucson Concussion Center
craucci@tucsonconcussioncenter.com
Roundtable Discussions
Using ESSA to Promote Health!
Brian Eller, Director, Coordinated School Health Program, Pima County Health Dept.
brian.eller@pima.gov
Parents Creating Change
Stacy Winstryg , Darcy Mentone, Callie Tippett of the Vail Parent Network Steering Committee, Vail School District
vailparentnetwork@gmail.com
Taming Anxiety: Tools for Improving Student Outcomes
Janet Summers, M.ED, LPC, LMFT, President SummerSmith, Inc.
jsummers@summersmith.com
Helping Students Find Their Passion, Their Work
Nils Urman, MBA, CEcD, Program Manager, Business Services, Pima One Stop
nils.urman@pima.gov
Session 3
Before You Call 911: Regional Behavioral Health Authority & Crisis System 101 - PDF
Michael Johnson, Community & Events Coordinator, Cenpatico Integrated Care
michajohnson@cenpatico.com
Polly Knape, Supervisor,
First Responder Services, Cenpatico Integrated Care
Make Your Classroom Fun!
Brian Eller, Director, Coordinated School Health Program, Pima County Health Dept.
brian.eller@pima.gov
Typical or Troubled? A Look at Adolescent Behaviors - PDF
Cynthia Ruich, Ed.D., Director of Student Services, Marana Unified School District
c.t.ruich@maranausd.org
Youth Self-Harm and Suicide
Cherie Everett, M.Ed., LPC, Director of Outpatient Services, Palo Verde Behavioral Health
June 2, 2016
Panel Discussion: Social Media & Schools
Catherine F. Brooks, PhD, Professor of Information and Communication, Director, Center for Digital Society and Data Studies, and Associate Director, School of Information, UA
cfbrooks@email.arizona.edu
Courtney Bennett, Outreach, Arizona Attorney General's Office
courtney.bennett@azag.gov
Daniela Siqueiros, Communications Coordinator, Office of the Pima County School Superintendent
daniela.siqueiros@schools.pima.gov
Session 1
Keeping School Counseling a Positive Process for Everyone: Solution-Focused Brief Counseling
Kathleen "K.C." Conner, M.Ed, LAC, School Counselor, Gallego Intermediate School, Sunnyside Unified School District
kathleenc@susd12.org
Where Pink Meets Blue: Creating a Safe Community for Transgender Youth - Zip File | PDF
Andrew Cronyn, MD, Pediatrician, El Rio Community Health Center
AndrewC@elrio.org
Kerrie Green, MSW, Senior Program Supervisor, Healthy Families
kgreen@cfraz.org
Mindfulness Tools for the Classroom: Fun Ways to Help Students (and YOU) Relax, Focus, and Connect - PDF
Jordan Wiley-Hill, Director, The Mindfulness Exchange
jordan@mindfuledex.com
IMPACT: Influence, Motivation, Passion, Achievement, Commitment, Together: Creating Kinetic Student Connections
Tricia Peña, Ed.D, Education Consultant
tricia@echo360education.com
Deborah Sather, Ph. D, Trainer, E.C.H.O. 360 Education Consulting & Training
deborah@echo360education.com
Session 2
On the Cutting Edge: Emerging Career Opportunities in Pima County
Javier Herrera, Program Manager, Pima County Health Dept.
Jan Lesher, Deputy Administrator for Community and Health Services, Tucson
Greg Wilson, Dean of Business, Occupational and Professional Programs, Pima Community College
Mark Kerr, Chief of Staff, Ward 5, Tucson City Council Office
Challenging Behaviors in the Classroom: Why Do You See Them and What Do You Do? - Zip File
Maryann Judkins, Ed.D., Assistant Professor of Research, University of Arizona
emscconsult@gmail.com
Preparing Undocumented Students for Career and College
Staff, Scholarships A-Z
STUDENT VOICE! The Missing Piece in Creating Positive Climate Change - PDF
Barbara J. Wayne, M.Ed., Retired Principal, TUSD
bjwayne@comcast.net
Session 3
Universal Behavior Screening: A Proactive and Systemic Approach to Behavioral Intervention - PDF
Colleen Frederick, M. Ed., Principal
c.b.frederick@maranausd.org
Matt Abney, M. Ed., Assistant Principal, Estes Elementary School, MUSD
m.b.abney@maranausd.org
Eating Disorders: Promoting, Prevention, and Resilience
Richard Wahl, MD, Director of Adolescent Medicine, Professor of Pediatrics, Banner University of Arizona Medical Center,
rwahl@peds.arzona.edu
Janet Summers, M.Ed, LPC, LMFT, President SummerSmith, Inc
jsummers@summersmith.com
Diane Ryan MA, LPC Executive Director, Mirasol
dffryan@hotmail.com
Katie Klein, MS Clinical Director, Mirasol
katielklein@gmail.com
Don't Take MY Word For It! Career and College Readiness – What the Research/Data Says…
Kirk Perrini, M.C., NCC, LPC, Director of Counseling, Pima JTED
KPerrini@pimajted.org
---
Thank you to our Sponsors!
Excellence Sponsor
UA Links
Supporting Sponsors
Friend of Healthy & Safe Schools