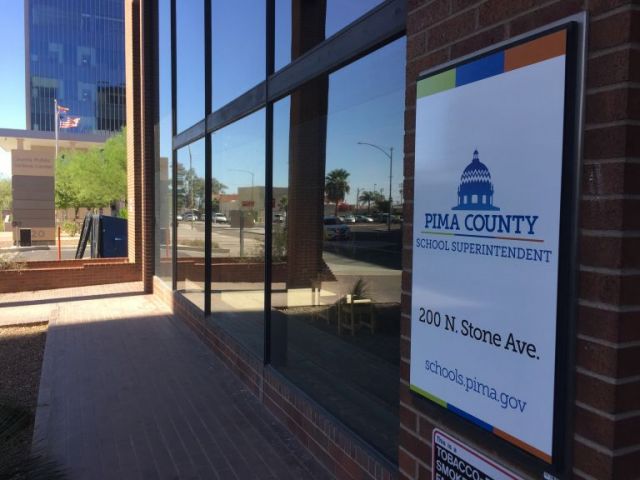 Contact Information
Pima County School Superintendent's Office
Physical: 200 N. Stone Ave., Tucson AZ, 85701
Phone: (520) 724-8451| Fax: (520) 770-4210
Connect with us: Facebook | Twitter | Instagram
The Pima County School Superintendent's Office is located in downtown Tucson on the northeast corner of Stone and Alameda.
Our office hours are 8:00 AM to 5:00 PM, Monday through Friday. You may call the office or e-mail us if you need assistance.
Parking is available at metered spaces or in pay parking lots. Please note that we do not validate parking. Sun Tran bus stops are located on both Stone Avenue and Alameda Street. For information regarding available parking options, please visit Park Tucson or Pima County Parking Operations.
Interested in volunteering? Call us at 520-724-8451 or email schools@schools.pima.gov.
Leadership
Pima County School Superintendent
Dustin J. Williams
Chief Deputy Superintendent
Deborah Bryson
Chief Financial Officer
Derika Louk
General
Elections & Constituent Services
520-724-8451
Communications Director
Matt Stamp
Pima Accommodation District
Shelly Duran
Special Assistant to the Superintendent
Jeanette Velasquez
Office Support
Lourdes Rodriguez
Office Support
Jeanne Mayer
Director of Information Technology
Craig Rendahl, P.E.

Programs
Business & Education Partnerships
Andrew Bevington
EDvance
Diane Kent
GiftED & Frameworks and Foundations
Marianne Landrith
Healthy and Safe Schools
TBD
LEADNow! Leadership Institute
Deborah Bryson, Director
Susan Rosenthal, Coordinator
The STEMAZing Project
DaNel Hogan, Director
Chavilla Derenburger, Support
Waters Center for Systems Thinking
Sheri Marlin
Finance Department
Chief Financial Officer
Derika Louk
Finance Accountant, Principal
Marcos Enriquez
Finance Accountant
Adela Carrillo
Finance Accountant, Principal
Lin Ferns-Migneault
Finance Accountant, Principal
Marsha Callaway