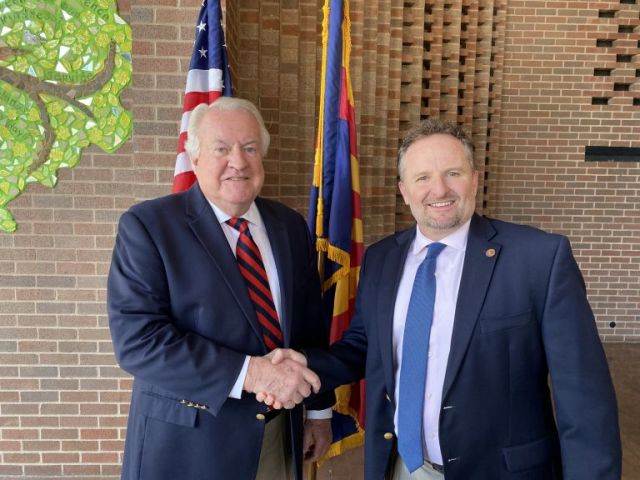 Dr. Wade McLean Appointed to PCC Governing Board
FOR IMMEDIATE RELEASE
January 3, 2023
Matt Stamp, Communications Director
520-260-3305
matthew.stamp@pima.gov
Tucson, AZ – Pima County School Superintendent Dustin J. Williams has appointed Dr. Wade McLean to the Pima Community College Governing Board. Dr. McLean will fill the vacancy left by the resignation of Catherine Ripley in November 2022.
Dr. McLean is former Superintendent of the Marana Unified School District (1995-2003) and has an extensive background in education in our state. Dr. McLean has also served on the Arizona State Board of Education and has experience as adjunct faculty at Pima Community College and the University of Arizona.
"After an extensive review process, Dr. McLean stood out as the candidate who most closely aligns with the Pima Community College adopted mission, vision, and values. Dr. McLean is highly respected in this community and has the experience that will ensure a smooth and effective transition for PCC. He brings a set of fresh eyes to the governing board and is committed to serving all PCC stakeholders while focusing on the needs of students, staff, and faculty," said Superintendent Dustin J. Williams.
"I am honored and humbled for the confidence that Mr. Williams has in me. Pima Community College is and has been an important institution for members of Tucson and its surrounding communities. I hope that I can assist Pima Community College to continue to improve the lives of those it serves," said Dr. McLean after being appointed.

The position will be up for re-election in November 2024 for a two-year term. Dr. McLean was sworn in on Tuesday, January 3, 2023, and is eligible to participate in his first board meeting on January 11, 2023.
"This was a tremendous experience. I was truly overwhelmed by the quality of candidates who applied for this vacancy. I commend the eight outstanding individuals who were willing to dedicate their time to serve in this capacity that is so vital to the educational success of our students," said Superintendent Williams after the process.
---
To learn more about Pima Community College visit https://www.pima.edu/. To learn more about the Pima County School Superintendent's Office visit www.schools.pima.gov.
###